This guide will show you how to edit your client's details from the Client Management dashboard.
Locate the client in the Active Clients list on the Client Management dashboard (Clients tab).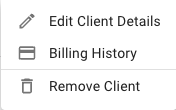 Select the More button on the right next to the client's name and then select Edit Client Details to make changes to any of the following fields:


Client Account Name

Contact Name

Tax Pro Display Name

Tax System Designation (optional)

GoSystem Locator (if Tax System Designation selected)

Select Submit to save the changes.



Select Close to close the confirmation window.