When a new Team Member is added to your Tax Pro account, they will automatically receive an invite email with instructions on how to proceed. However, in some cases you may need to resend the invite, such as if the invitation expired before the team member could accept it and create their Tax Pro account.
Team member invitations expire after 24 hours and will show Expired in the Status column, while team members with an active invite will display Pending in the Status column. Once a team member has accepted an invite, they will show as Active.
To resend an invite to a team member:
Log in to your Ledgible Tax Pro account, and navigate to the Team tab.



Select the Actions button to the right of the desired team member.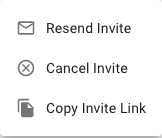 Select Resend Invite.


Select the Confirm button to proceed.


You will be notified that the email was sent successfully. Click Close to close the window.