If you no longer wish to invite an individual previously invited to join your Tax Pro account as a tax preparer, you can cancel the invitation from the Team tab through the following steps:
Log in to your Ledgible Tax Pro account, and navigate to the Team tab.



Select the Actions button to the right of the desired team member.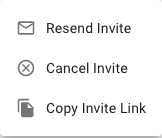 Select Cancel Invite.


Select the Confirm button to proceed.