Ledgible natively supports several blockchains, allowing you to import your transactions by entering your wallet address. For tokens with blockchains not yet not supported by Ledgible, you can import your transaction history into Ledgible by exporting a CSV file from your wallet, and importing the file into Ledgible. You can subsequently add manual transactions to fix any discrepancies, simulate future transactions, or even add your entire transaction history if the wallet in question does not allow for a CSV export.
To add manual entries into Ledgible:

Log into your Ledgible account.


Navigate to the Transactions tab.


Click Create Entry on the top right-hand side.


On the page that opens, enter the date of your transaction, the time of the transaction, enter the timezone the transaction were performed in, and select the transaction type. Once you have selected the transaction type, on the same page, you can choose to add a categorization to certain types of transfers (for example, designating an incoming transaction as staking rewards). Lastly, select whether to add the transaction to an existing crypto source, or to create a new one by tickeing the box at the bottom.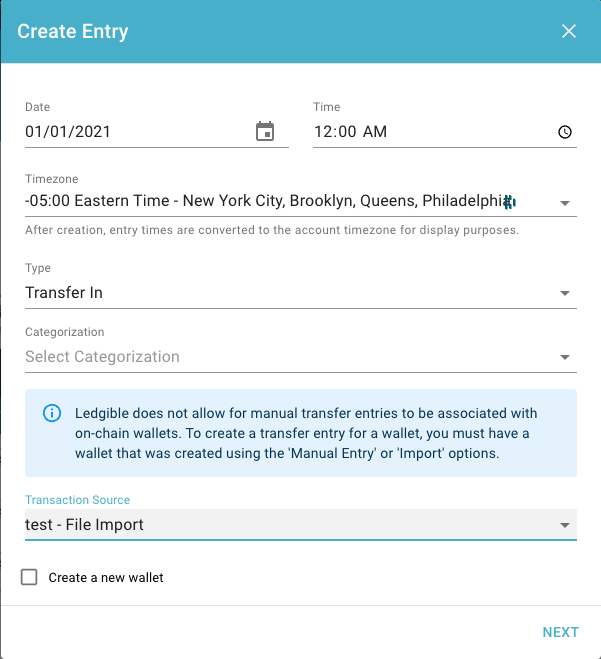 On the following page, enter the currency symbol of the asset being transacted, the quantity of the asset, and choose your pricing method. Spot pricing means Ledgible will automatically retrieve the price of the asset at the time of the transaction, however if users know the price paid per unit, they can enter this by selecting Custom Pricing.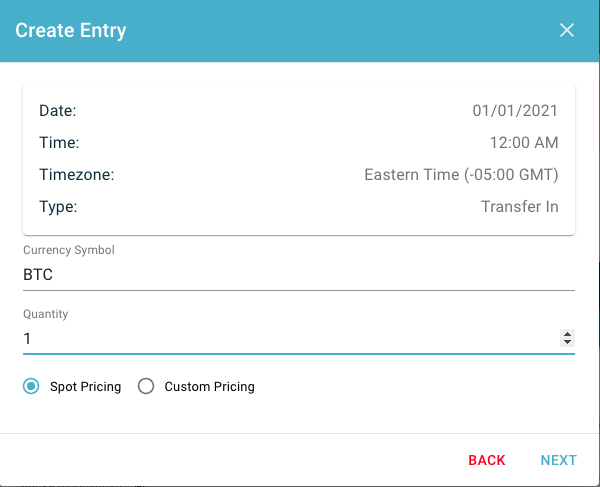 On the final page, review the transaction information and confirm.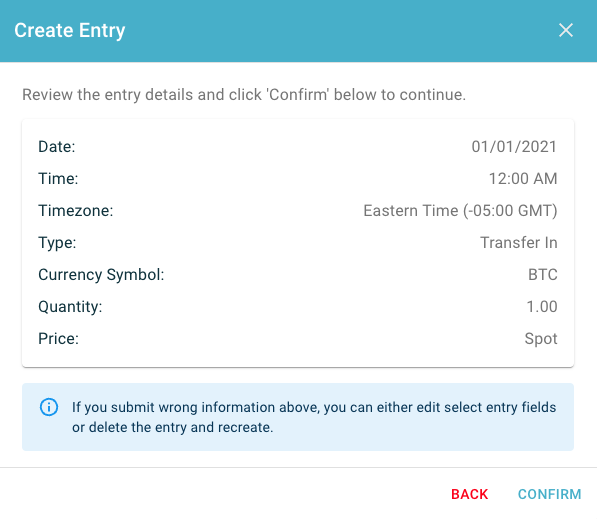 Once your wallet is added, you can run an account refresh to display all the transactions imported from your new source. You can now proceed with adding other crypto sources, or if all of your transactions have been uploaded to Ledgible, you can review transaction exceptions and generate reports.