2 Factor Authentication is not enabled by default when setting up a Ledgible account. For extra security, users can choose to enable 2FA, and once enabled, users will be required to enter a One-Time Password (OTP) from an Authenticator each time they log in for enhanced security.
To set up 2FA:
Log into your Ledgible account, click the icon in the top-right corner, and select User Settings from the dropdown.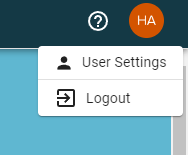 On the next page, under Security settings, click Turn On, on the right hand side of the Two-Factor Authentication line.

After clicking next, open your Authenticator app, select the + sign on the homepage, and choose to scan a QR code. At this point you should be able to scan the QR code displayed by Ledgible into your Authenticator app, and it will be added as "Ledgible".


2FA setup is now complete. Upon your next login, after entering your email and password, Ledgible will prompt you to enter the code that your Authenticator app will display under "Ledgible" in order to access your account.
IMPORTANT: after scanning the QR code, the website will present you with a recovery code. This recovery code will help you regain access to your Ledgible account in case you no longer have access to your authentication device. if you lose access to your device and did not copy this code, please contact Ledgible support for further assistance.