Ledgible offers users the possibility of linking Tax Payer accounts with tax preparers, meaning users can upload their cryptocurrency transactions and submit them for review by their CPA without needing to share personal details. This video gives an overview of the different ways to connect from both the Tax Preparer and Tax Payer perspective.
There are two methods to connect a Tax Payer account with a Tax Preparer account. If the Tax Payer has not yet created an account, the Tax Preparer can invite them to the platform and to connect with them directly. Please note this method will not work if the client has already created an account.
Inviting a client by email: - First, the Tax preparer will need to send the invite to the client. To do so:
Log into your Ledgible Tax Pro account, and under the Client tab, click Add Client in the top-right corner.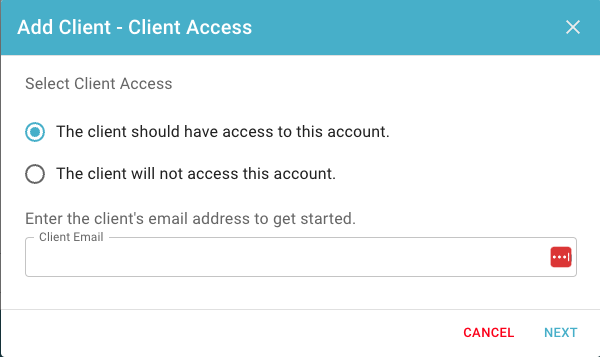 On the following page, enter the client's name, their contact name, select their timezone, and enter the name that you would like your account to display to the client.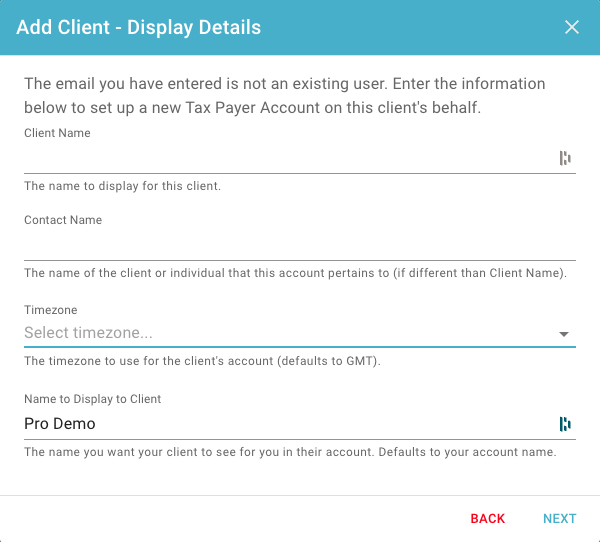 On the next page, select the client's tax year, their tax calculation method, and designate GoSystem as your tax system of choice if applicable. If the client has given you consent to update their tax information, check the Consent for Tax Input box.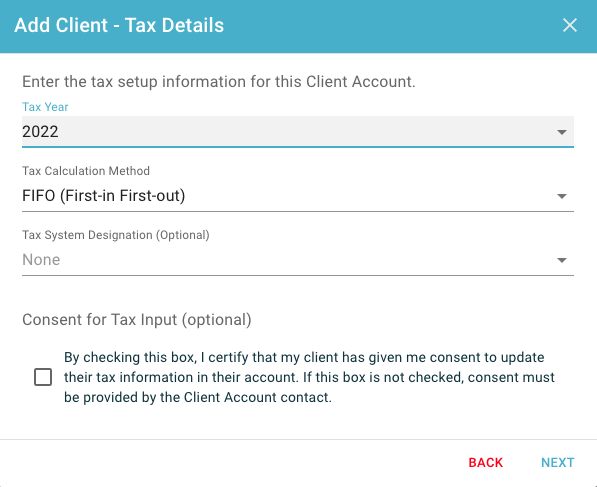 Finally, review the information presented to you before clicking create. At this point an email will be sent to your client inviting them to sign up for the Ledgible platform.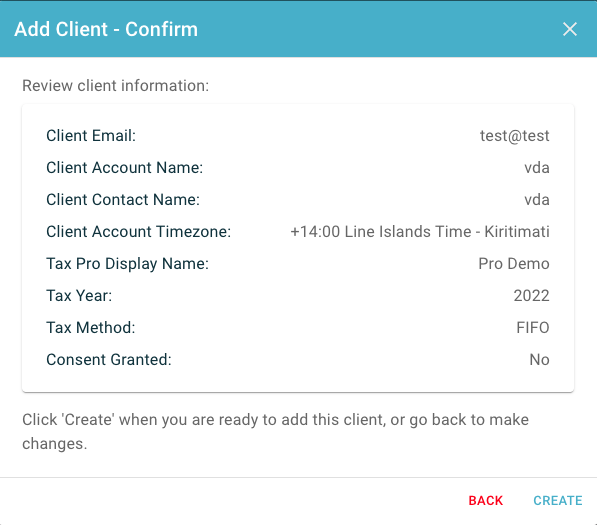 You will receive a confirmation message once the invite is sent.
- Second, the client will need to accept the invite sent from the Tax Preparer:
Open the email you have received from Ledgible. This email will contain a code, as well as a link to sign up for Ledgible.


Sign up for your Tax Payer Ledgible account.


Once logged in, you will have an invite in green in the top-right corner. Click this invite and click Connect.
The Tax Preparer and Tax Payer accounts will now successfully be linked.
If your client has already created a Ledgible account and wished to link to your Tax Preparer account, you will need to share your Tax Pro code with the client, rather than invite them directly. To do so:
Log into your Tax Professional account, then navigate to the Administration tab.

Scroll down to the Tax Pro code section: copy the code and share it with your client via the medium of your choice.
Once the client has received your Tax Pro code, they will need to:
Log into their existing Tax Payer account.


Click on Settings in the top-right corner from any screen.

Click on Add Tax Pro on the right side of the page.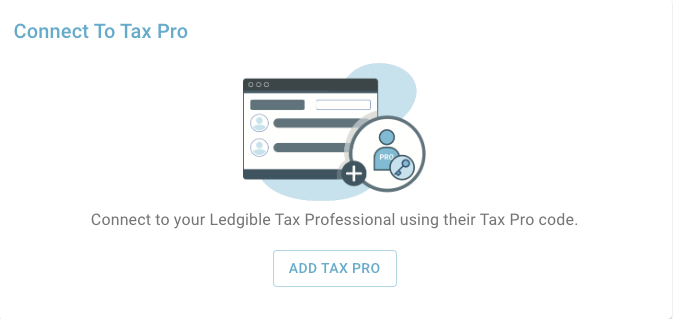 Enter the code your Tax Professional shared with them.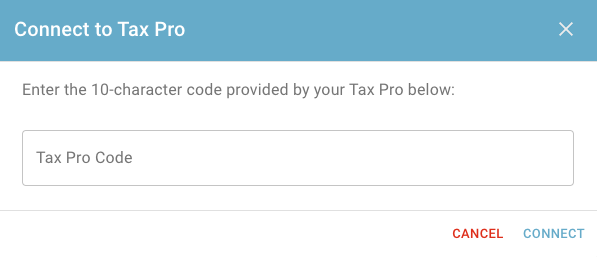 Click Connect, and the accounts will be connected.
For more information on the different methods of connecting as well as the Preparer Pays option, please see the following sections from our Knowledge Base: