Ledgible fully supports all cryptocurrencies today - any transaction activity can be imported via our file import wizard, or added via our manual entry feature.
Head over to the Terra Block Explorer and paste your address into the search bar.
Once your address comes up, you will be able to see a list of all your transactions.
If you have a few transactions, it may be easier for you to manually enter this through Ledgible. If you have many transactions, we have found a third party tool helpful in organizing the data for you.
NOTE: Ledgible doesn't endorse any 3rd party tools for use, but Stake.tax offers a service that takes your public address and produces a CSV export.
If you are using Stake.tax, you will be able to download a CSV of your transaction history on the Solana Chain. Be sure to review your transactions.
With regards to Terra (Luna) transactions, and if you are using stake.tax to download the CSV file, you will have the below three options to choose from: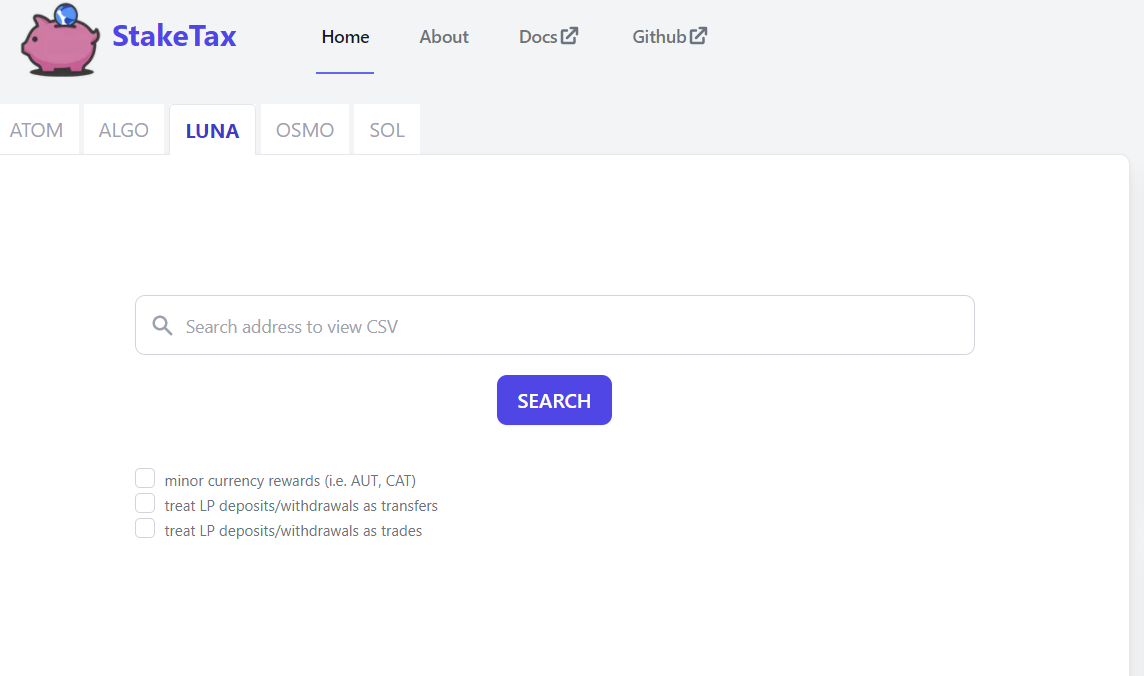 Importing Your Terra (Luna) Transaction History
Once you have your transaction history downloaded into a supported file, head over to Ledgible Crypto Tax and create a new wallet by clicking the Add Wallet Data button from the Wallets tab.
Under Wallet Type, choose File Import / Manual Entry and then select Next:




Give your wallet a name, choose the appropriate Transaction Type, select File Import under Transaction Entry Method, and then hit Next to continue:





Prepare the Template file for upload:

Download a copy of the Template file, which contains several example entries and details about what fields Ledgible expects to receive in your upload.

Once you have familiarized yourself with the instructions in the file, delete the content from all rows under the header (first row).

Copy and paste the appropriate columns from your spreadsheet into the matching column in the Template file and then save it. Alternatively, if you are unable to download your transaction history as a file, you can fill in your transaction information from the Terra Explorer or from your wallet.





Upload your file and follow the prompts in the File Import Wizard:

Once you have saved the Template file with your complete transaction history information, click the Import Entries button to select and upload your file.
Click Next to begin the File Import Wizard, which will guide you through mapping the columns in your file to the fields in Ledgible, reviewing the data, and correcting any errors.
The File Import Wizard will automatically map the columns if you have uploaded your data using the Template file; if you have uploaded your original source file instead then you will need to map these yourself. Be sure to confirm each selection during the mapping process in order to proceed to the review page.





Review or edit your shiny new wallet!

Once your wallet has been successfully added to Ledgible, you can review recent transactions from the Summary tab of your wallet.
Add additional transactions from the Imports tab of your wallet. As Ledgible will not automatically update wallets added via file import, you may wish to import additional transaction history in the future using the same method.
Detailed transaction information can be viewed by using the filters on the Transactions tab.